There's a widely known internet meme which shows a screenshot from a Grand Theft Auto game with text that says something to the effect of "Does other things, but the missions." I laughed upon reading this, knowing that I've been guilty of this. What do I do, exactly? Well, I steal cars, mug people but most of the time I spend most of the time in gambling in the casinos of Las Venturas. Yes, I confess I'm a fan of games like blackjack and poker, but mostly just for leisure and I don't bet any real money. So imagine my excitement when video and casino games collide in certain titles. In the game Dead or Alive: Beach Volleyball, I could swear that I've spent more time in the casino than actually playing the eponymous sport.
It's been quite a while since I've played a video game that features poker or blackjack as a side game. However, my friend recently told me about how Red Dead Redemption has poker and multiplayer is possible through this DLC called Liars and Cheats. It's weird how I didn't notice this when I first played the game. Maybe it's because I was too busy hunting and skinning wolves for money? Hey, a cowboy must do anything to survive in the harsh conditions of the west! Anyway, so I picked the game up and bought the DLC to give this a go. I didn't have any hesitations buying it since Grand Theft Auto, another Rockstar game, has successfully implemented games like poker into the main game.
I'll be honest. Just because I enjoy playing these games, that doesn't usually mean that I'll automatically be good with them. Most of the time when I play poker, it's mostly luck than skill for me. I lose a lot, but hey… as long as I'm having fun and I don't lose any real money. Anyway, I've gotten a lot better after doing a bit of research in the Internet. I found an article called "Liars and Cheats- How to Beat Poker in Red Dead Redemption" was extremely helpful and detailed with poker tips for both single and multiplayer. There's even cheating tips, but only for single player so don't get any ideas of cheating actual people. Also, if you still can't get the hang of it, there are YouTube videos embedded in the article so that should help you out some more.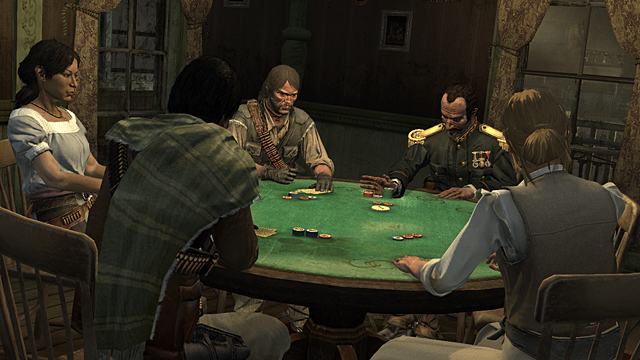 Just a word of warning though, these tips are only meant for playing poker in video games like Red Dead Redemption. However, if you want some advice for actual gambling… well check the other articles at Poker Listings for advice on real life poker strategies.
To conclude, if you're like me and you like playing these fun distractions in video games then I definitely recommend Read Dead Redemption and its DLC Liars and Cheats. It's a great addition that adds more life to the game even after you've finished the campaign. So enjoy but remember to keep everything in moderation!